LEY COMAS
---
FILM: NI AQUÍ/NI ALLÁ
DOCUMENTARY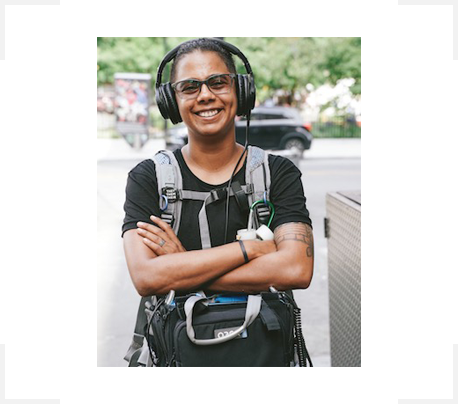 BIO
---
Ley Comas is a Non-Binary/brown Latinx filmmaker based in NYC. A hybrid from Costa Rica and Dominican Republic that deeply cares about underrepresented communities and the future of our society. Ley graduated from Binghamton University with a Bachelor in Cinema and Women, Gender and Sexuality Studies and they are currently enrolled in a Master of Fine Arts with a concentration in Documentary Filmmaking at City College. They have been working as a Production Sound Mixer and Assistant Editor for the past three years. Ley wishes to use their knowledge to change the portrayal of misrepresented communities and empower the new generation to use film as a vehicle for social change.
FILM SYNOPSIS
---
Ni Aquí/Ni Allá is a personal documentary that centers a conversation with my mother about my gender identity. I'm the middle child of christian pastors who never imagined that transitioning was possible. Growing up, in the Dominican Republic, all the trans people I knew were portrayed as evil characters, punchlines in movies and TV shows or freaks. At home, anything that God disliked was an abomination. This documentary follows my physical and psychological quest to become myself while struggling to find a middle ground between me and my family.
CREDITS
Director / Producer / Editor / Sound Designer: Ley Comas
Co-Producer: Eva Laerke Stald-Bolow
Director of Photography: Ashika Kuruvilla, Ley Comas
Production Sound Mixer: Bhima Aryateja
GFX: Ashika Kuruvilla
---
CAST
Featuring:
Ydalia Comas
Ley Comas
Bryan Ortega Comas
Loida Ortega Comas
Special Thanks:
Andrea Weiss
Antonio Tibaldi
Chelsi Bullard
Clibet Liberato
David Briggs
Martina Radwan
Rick Smigielski
Tashi Sanchez-Llaury
This documentary was Funded in part byThe Ostrovsky Family Fund Award in honor of Chantal Akerman.
Costa Rica/Dominican Republic/USA 2020 - 15 min Digital/Color