ASHIKA KURUVILLA
---
FILM: DON'T LOSE THE LESSON
DOCUMENTARY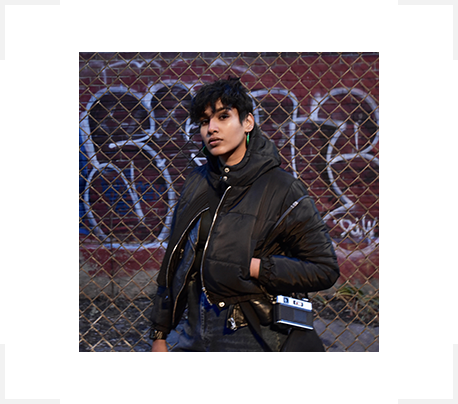 BIO
---
Ashika Kuruvilla was born and raised in Bangalore, India. She moved to New York at the age of 15 to pursue playing basketball and receive a higher education. Her passion for storytelling with the camera started early as she integrated with the challenging yet exciting new culture, people and images of New York. Her documentation of life as she saw it through the lens became the emotional bridge that helped her connect with people and life around her. This passion sparked her creativity to the point of pursuit.
She studied to be a creative communicator with a BFA in Graphic Communication from Baruch College. On graduating, she worked as an Art Director with Vaynermedia. Driven by the passion to give a voice to communities, she simultaneously started a community oriented artist collective 'Viduals' that acts as a resource and platform for emerging artists. Currently, her emerging themes in making films are of human connection, issues of immigration, intersectionality and underrepresented communities that need a voice. She is the 2019-2020 recipient of the John Grist/BAFTA New York Scholarship.
FILM SYNOPSIS
---
Machli Joseph was a seven-time CUNY women's basketball championship coach who pleaded guilty to embezzling money from Baruch College. He went from being a well respected and charming coach and mentor to having to give up his whole career because of one bad decision. As Machli serves a 20 month sentence in federal prison, Ashika Kuruvilla looks for the answers to the question— how did all this affect him and the people he impacted the most, his players? Told from the perspective of his players, Don't Lose The Lesson delves into the effects and lessons learnt from making the wrong decisions and the ripple effect of a sentencing from the federal government.
CREDITS
---
Writer/Director: Ashika Kuruvilla
Producer: Eva Laerke Stald-Bolow
Director of Photography: Bhima Aryateja and Ashika Kuruvilla
Sound Designer: Ashika Kuruvilla
Editor: Ashika Kuruvilla
Sound Mixer: Ley Comas
Phone Interview Sound Mixer: Bhima Aryateja
Gaffer: Warut Sn
---
CAST
Machli Joseph
Sheridan Taylor
Jasmine Smarr
Vanessa Santana
Francess Henry
Toshiba Joeph