ZAHRAA SHAMS
---
FILM: A BASKET OF LOVE
FICTION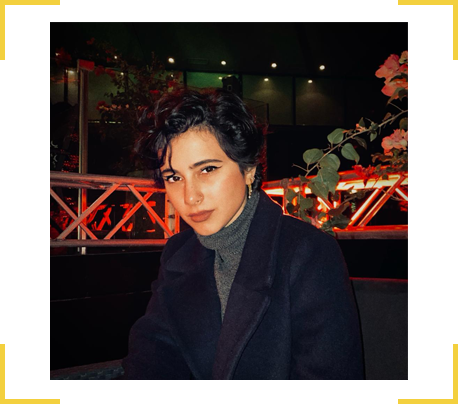 BIO
---
Zahraa Shams is a filmmaker and creative director, born and raised in Bahrain, a small country with rich and diverse culture and many untold stories that inspire the characters and settings in her films.
In 2019, Shams received her BFA at EICAR film school in Paris, specializing in Directing for Cinema & Television and is currently pursuing her MFA in New York City after receiving her Fulbright scholarship in 2021.
She has served as a creative director on numerous projects in the GCC and enjoys being involved in every aspect of the filmmaking process.
FILM SYNOPSIS
---
In a tight-knit Arab household, NOOR, the eldest daughter, lives by her own rules, but her late night outings start to raise Mother's suspicions. As Noor becomes torn between sharing her secret with Mother but also maintaining their relationship, she slowly starts facing the consequences of her actions... with IMAD, her younger brother, aware of her whereabouts and watching her every move, and MALAK, Noor's sister covering up for her... what could happen if Mother ever found out about that secret?
CREDITS
CAST
---
Hanan Al Muscati as FATEMA
Malak AlZadjali as NOOR
CREW:
---
Director: Zahraa Shams
Producer: Ali Alnajjar
First Assistant Director: Ali Jowhari
Unit Production Manager: Bader Aljabri
Production Designer: Moosa Albalushi
DoP: Mustafa Izzeldin
Editor: Zahraa Shams